BALI AIRPORT, CLOSE TO THE SEA
I write in english to be understood by everyone. Sorry for the faults !
From BALI to JAVA : we are flying economy with LION AIRLINES, it's not expensive and comfortable. We decide to go directly to YOGYAKARTA to visit this historic city, the second big city in Java.
We stayed 5 days in YOGYAKARTA, specially for the 17th august : Independance Day of Indonesia but also my birthday !
We choose a very pleasant guesthouse with a swimming pool and the staff is so friendly and kindness. I recommend this quite and confortable place.
BIRTHDAY : on the 17th august, at the breakfast they brought me a big birthday cake ! It was great ! Thanks you so much to Bella, the nice supervisor of the guesthouse.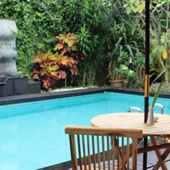 Griya Yunika is an exclusive Guest House located in Yogyakarta. Bringing the concept of serviced homestay, you are pampered with the impression of local culture
our guesthouse : GRIYA YUNIKA in YOGYAKARTA
★ Griya Yunika, Yogyakarta, Indonésie
Doté d'une piscine extérieure, le Griya Yunika est stratégiquement situé à seulement 8 minutes du palais du Sultan et du quartier commerçant de la rue...
notre guesthouse à JAVA, YOGYAKARTA.
In YOGYAKARTA at GRIYA YUNIKA , surprise for my birthday at the breakfast ! 🎂 🍰 a big cake with candles and my name 💖
We spent time with our french friends (Kutzi and Marco) for 2 days together. We enjoyed ! What a fun (the donuts ! the militaries ...)
We planed our trip :
First : Sultan's Palace and old town visit.
Currently, this is a sultan who directs the province (9th generation). He has 5 daughters and it's the first time that a sultan has no son.
Then, shopping in MALIOBORO street (famous street with many cheaper souvenir or clothes shops) , moving by becakrong> (typical bicycle with a motor or without, seats in front of the driver),
discovering the BATIK shops and the fabric ...
The other days :
the bird's market, we see poor colored chicks ! Incredible ! what a pitty for these animals.
We were not coming to see this !
We eat together (too much !!) and enjoy different meals (japanese, donuts !!...)
The Independence day is a military celebration with many tanks and military machines on which people could go up. It's really a special atmosphere, unthinkable in Europe where the militaries are always serious, not smiling and don't speak to the public.
In a big shopping center (Yogyakarta city mall) everybody is joking with the militaries and take photos with the children, etc ...
Look at the pictures, it's amazing !
INDEPENDANCE DAY and MY BIRTHDAY with KUTZI and MARCO
We book 2 "VIP" tickets for a Javanese dancing show in the theater just near the temple PRAMBANAN, one hour from YOGYAKARTA.
At the restaurant I loose the tickets and I realize the problem in the afternoon.
I was afraid because they was expensive VIP places !
Fortunately Bella, the supervisor receptionist, decide to return quickly at the Tourism Information Office with her motorbike and we obtain a new voucher for the show. What a trouble ! Thanks to Bella for her effectiveness !
This night, this is the Full moon, we are lucky.
It's a last romantic night in JAVA.
TRADITIONAL JAVANESE BALLET (PRAMBANAN)
A BAD SURPRISE AT THE AIRPORT :
Then, coming back to Singapore with SILKAIR (a subsidary of SINGAPORE AIRLINES) but at the airport we have to pay to adjust our Indonesian visa : an overlay of 1 day (300 000 MYR/pers) !! (40 €) because from 20th july to 19th august = 31 days and not 30 days !
Beware the next time, always check the tickets of the travel agency !
In flight we can see Java's volcanos.
VOLCANOS, FLIGHT TO SINGAPORE.